The Renewal By Andersen Experience
Turn to Renewal by Andersen® of Western New York for replacement windows and see The Renewal Difference in action. As the region's exclusive Renewal by Andersen retailer, we go about our projects in a respectful, professional manner that originates from the outstanding training provided to us by Renewal by Andersen. Our ability to install top quality products, using the latest installation techniques, and backing them up with the industry's deepest warranties is what makes Renewal by Andersen the best choice for window replacement from Buffalo NY to Rochester NY.
Andersen® products and patents have revolutionized the window and door industry for more than 100 years, changing the home construction industry, how homes are designed, and even how we live our lives. The materials they use to craft their windows, materials like High Performance™ Low-E4® and Low-E4® SmartSun™ glass and their exclusive Fibrex® material, ensure that Renewal by Andersen windows will help you save money on your energy bills, helping you to maintain a more comfortable, more inviting living environment.
When installed by a factory trained Renewal by Andersen retailer like Renewal by Andersen of Western New York, your replacement windows will add lasting value to your home that is unmatched by any other window company on the market. The name Renewal by Andersen in its own rite can add value, as Renewal by Andersen windows are much sought after by realtors and potential homebuyers.
The factor that truly sets Renewal by Andersen apart even more than their outstanding products and highly skilled contractors, is their industry-leading 20/2/10 warranties. Renewal by Andersen offers one of the strongest window and door replacement limited warranties you will ever find.*
To get started with Renewal by Andersen today, give us a call, fill out our Request an Estimate form to schedule a no obligation in-home estimate on windows from Rochester NY to Buffalo NY and everywhere in between.
Why Choose Renewal By Andersen?
Beauty
Available in a wide range of styles, each one with a unique set of features, when we install new windows in Buffalo NY or Rochester NY, you can be sure that they are designed to add lasting beauty to your home.
Value
Curb appeal and energy efficiency are two aspects of a home that can greatly increase or decrease its value. Our products are designed to increase both, giving you a valuable return on your investment when you have us install patio doors, entry doors, or windows in Rochester NY or Buffalo NY.
Professional Installation

At Renewal by Andersen of Western New York, we understand how critical proper installation is in order for our products to work at peak efficiency. Each of our design and installation specialists has undergone countless hours of factory training at the hands of Renewal by Andersen's experienced craftsmen..
Performance
We install doors and windows in Buffalo NY & Rochester NY that are designed and constructed using advanced materials like Renewal by Andersen's exclusive Fibrex® material, which lasts longer*, looks better, and performs beautifully!
Environmental Commitment

Renewal by Andersen and its parent company Andersen Corporation are the first window manufacturers to be Green Seal Certified. Much of the wood fiber used to make our exclusive Fibrex® material is reclaimed from Andersen Corporation's wood window manufacturing facilities.
Renewal by Andersen® windows will help you save money on your energy bills. You can count on Renewal by Andersen of Western New York to make that happen. We are factory trained in the installation of Renewal by Andersen replacement windows from Buffalo NY to Rochester NY, windows that are specifically designed for increased energy efficiency.
Here is a brief look at the energy efficient properties of Renewal by Andersen windows:
When combined with Renewal by Andersen's® exclusive Fibrex® frame material, these advanced glass packages make for will help you save money on your energy bills. Renewal by Andersen's High Performance™ Low-E4® SmartSun™ glass is the most energy efficient glass we have ever offered, and has may benefits beyond energy efficiency for Western New York homeowners.
Renewal by Andersen has replaced more than two million windows in more than 300,000 homes. Homeowners across the country turn to us because they know we can save them money on their energy bills with our advanced line of replacement windows.
Renewal by Andersen and its parent company Andersen Corporation have created a composite material called Fibrex® that is revolutionizing the window replacement industry. Their exclusive Fibrex material offers the strength and insulating value of wood with the low maintenance features of vinyl. Fibrex material never requires painting and will not crack, pit, corrode, or rot.*
What is Fibrex?
Fibrex is a composite material, combining wood fiber with a thermoplastic polymer. This combination makes for an extremely strong and stable material that requires very little maintenance. Fibrex is utilized in both the frames and sashes, allowing them to be narrower, providing more view and more light.
How is Fibrex Used?
Fibrex is utilized in the frame and sash of both Renewal by Andersen replacement windows and Andersen patio doors. It is available in a wide range of colors and textures, and can be easily customized to meet nearly any stylistic need. When you turn to Renewal by Andersen of Western New York for windows and patio doors in Rochester NY or Buffalo NY, our experienced design consultants will help you to turn your vision for the perfect window or door into a fully functioning reality.
To learn more about Fibrex and its many benefit for local Western New York homeowners, call the region's exclusive fully certified Renewal by Andersen retailer- Renewal by Andersen of Western New York.
Window Replacement Process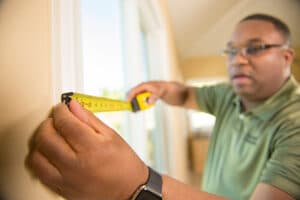 Pre-Installation Custom Measurements
The process begins with our factory-trained professionals taking notes and measurements to assure your home receives the care necessary to make you happy.

Step One: Arrival of the Renewal by Andersen Team
Once our installation crew has proper measurements, our crew from Renewal by Andersen of Western New York comes to your home ready for the job ahead. Inside, we have everything tool and piece of knowledge to create eye-catching designs to make your home feel new again.

Step Two: Protecting Your Home
We understand the worries associated with window installation for Western New York area homeowners. Snow, rain, mud, and construction debris can make a big mess without the proper precautions.  To counteract this stress, our team carefully removes furniture and valuables away from your windows and doors to avoid damage. Our team dons protective footwear to ensure cleanliness.

Step Three: Removal of Existing Windows
Once our team properly sets up in your home, we remove your obsolete windows. Our crew puts their knowledge to use to avoid dust and debris buildup in your rooms.

Step Four: Installation of New Windows
Thanks to our pre-installation measurements, your old windows pose no threat. If the open area has warped (a common occurrence), we realign and readjust the levels to allow the new replacement windows to fit properly. We then test every aspect of your replacement windows to ensure they open and close easily and that the sashes of the window operate properly.

Step Five: Weatherproofing
Although a small gap between your new windows and the house frame exists, our installers fill this with special insulation foam to eliminate any drafts. Once in place, your windows will be airtight, weatherproof, and energy efficient.

Step Six: Finishing Touches
The foam used to insulate your windows is not exactly visually appealing. However, we rectify this by covering the foam with a trim to accentuate your interior to remove the unsightly foam.

Step Seven: Final Cleanup
When delivered, each of your new windows comes protected by a protective film. Step seven involves the removal of this film, the cleaning of our work area, the shining of any glass areas, and putting your furniture back in its proper place. After this, all that is left is to enjoy your new windows and to take a deep breath knowing you cut your energy consumption.
Our Industry Leading Warranties
Renewal by Andersen® stands behind every product it makes with comprehensive warranties that deliver the peace of mind you expect and deserve.
Every Renewal by Andersen® replacement window and patio door we install is covered by a fully transferable limited warranty that includes parts, labor and original installation services. This includes a 20-year limited warranty for Fibrex® and glass, a 10-year limited warranty for the frame, sash and locking mechanism, and a 2-year limited warranty on installation.
Other replacement window manufacturers cannot offer you the same kind of warranty protection that you'll enjoy when you choose Renewal by Andersen®.
It is comforting to know that your new windows and doors are being protected while they are protecting your home and family from the weather, heat, and cold. This strong warranty coverage is just one more reason why Renewal by Andersen® has earned a reputation and America's best replacement window and door company.
We Stand Behind Our Products and Our Work
If you want the comfort of knowing your new windows and doors are protected by a great product warranty and the promise of America's top window and door manufacturer, the choice is clear: Renewal by Andersen®.
Make the smart choice for your home by selecting Renewal by Andersen® replacement windows and doors. Contact us today for the best pricing on the best window.
In addition to the warranty coverage provided by Corporate Renewal by Andersen, the local affiliates of Austin, Atlanta, Dallas- Fort Worth, Oklahoma City, and Tulsa also provide the additional coverage shown below.
Renewal by Andersen Windows & Patio Doors
Renewal by Andersen's warranty is fully transferable, and does not end when you sell your home. Full coverage can be transferred from owner to owner as long as the warranty is still in effect. Warranties include parts, labor, and the following:
Renewal by Andersen offers a 20-year limited warranty on Fibrex® and on glass in window sashes and patio doors. Fibrex® windows are guaranteed not to flake, rust, blister, peel, crack, pit, corrode, or rot, under normal use for 10 years from the day of installation. The glass is guaranteed to be free from defects in manufacturing, materials, and workmanship beginning on the day of installation. Insulated glass is guaranteed not to develop problems that obstruct the view, or leaks in the organic seal under normal conditions and use.
Renewal by Andersen also offers a 10-year warranty on other parts of the window or door, such as locks, lifts, balance systems, hinges, handles, insect screens, weathering strips and finishes.
Request a Free Consultation
Disclaimer
I'd like to learn more about Renewal by Andersen windows. Please contact me at the phone number I listed above to schedule a convenient day and time for an in-home or virtual price quote. I am submitting this form so you can contact me and keep me informed about your products, services, and when they go on sale. I consent to being contacted by phone, email, or text message and understand that I may unsubscribe at anytime. I understand that I do not need to submit this form to schedule an in-home price quote. Instead I may call your service center at the number on this page.