Sliding doors are trending because of their expansive glass and excellent sun-catching ability. However, they're generally more prone to problems than hinged door systems since they have more moving parts. Faulty rollers, bent tracks, misaligned wheels, broken glass and pickable locks are the main issues homeowners typically think about when installing patio doors.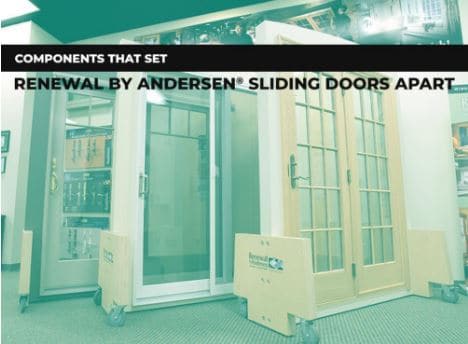 For long-lasting and reliable sliding glass doors, Renewal by Andersen® of Western New York is your best bet. Here are some of the notable features that separate our products from the rest:
Strong Locking System
Our Frenchwood®, Narroline® and Perma-Shield® gliding door models are equipped with the unique reach-out locking mechanism. Unlike simple latches, it pulls the active panel snugly into the jamb on activation. As a result, they deliver exceptional security and weathertightness.
Furthermore, you can reinforce any of them with an auxiliary foot lock for added security. This optional accessory likewise provides a means for enjoying partial ventilation while limiting access.
Sturdy Rollers
Our gliding patio doors slide smoothly on Andersen® dual ball-bearing track rollers with self-contained leveling adjusters. These patented tandem rollers are built to last, ensuring your gliding doors work effortlessly for a long time. In fact, they guarantee climate-neutral performance in the toughest of climates.
Breakage-Resistant Glass
Like our windows, our High-Performance™ Low-E4® glass is available with our patio door systems. Among its array of benefits is its remarkable strength. Its heat-strengthened interior pane offers superior resilience that beats ordinary exterior doors. It's less likely to be damaged during transportation and construction.
If a sliding patio door system isn't your style, our hinged French doors are perfect for you. Available in a variety of configurations, their panels swing either inward or outward to suit the design of your space. To talk about your project needs in Pittsford, NY, Rochester, NY, or Buffalo, NY, call Renewal by Andersen of Western New York at (716) 222-8657 or (585) 294-4640 today. We'll be happy to schedule your FREE, in-home consultation and estimate at your most convenient date and time.