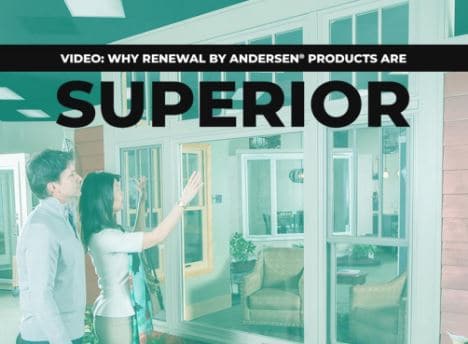 Renewal by Andersen® of Western New York isn't the only local window company at your disposal. However, we're your safest bet for many reasons. Here are some of the most notable reasons your home deserves nothing less than our products:
We Roll Beauty and Brawn Into One
Renewal by Andersen windows share wood's superior strength and stability as well as vinyl's low-maintenance features, but they don't decay or bow. In essence, they can preserve their pristine condition naturally, reducing the time you need for maintenance.
Made from the revolutionary Fibrex® material, our products are guaranteed not to flake, rust, blister, pit, crack, peel, corrode or rot under normal circumstances. The Low-E4® glass of our windows have a special titanium dioxide coating on its exterior surface to reduce dirt buildup significantly. The sun's ultraviolet (UV) light precipitates a chemical process called photocatalytic action, which loosens the dirt and allows water to wash it away. This invisible coating makes the glass smoother to shed condensation faster and increases the evaporation rate to dry cleaner and leave fewer water spots.
We Provide Exceptional Energy Efficiency Over the Long Term
Our window company is synonymous with excellent energy efficiency. Our products have the best combination of components to meet ENERGY STAR® requirements and deliver maximum energy cost savings. Compared to ordinary dual-pane glass, our SmartSun™ glass can make your home more energy efficient by 70% in summer and 49% in winter.
Moreover, our Fibrex frames and sashes contain 40% reclaimed wood fibers while our Low-E4 glass consists of at least 12% recycled content. Being one of the first window companies to receive the SCS Indoor Advantage Gold™ certification, our products help your family breathe fresher indoor air.
We Use a Better Approach
To ensure your entire window replacement experience is satisfactory from beginning to end, we'll do it all for you. Our start-to-finish process involves no subcontractors; our very own experts will custom design, measure and install your replacement units.
We claim to deliver the best window replacement method in America, but you don't have to take our word for it. We back our products and services with industry-leading warranties, covering parts, labor and original installation.
Renew your faith in home improvement with Renewal by Andersen of Western New York. Contact us today, or call (716) 222-8657 or (585) 294-4640, for your free, in-home consultation and estimate in Buffalo, NY, Rochester, NY, or the surrounding areas, and let's get your project started.