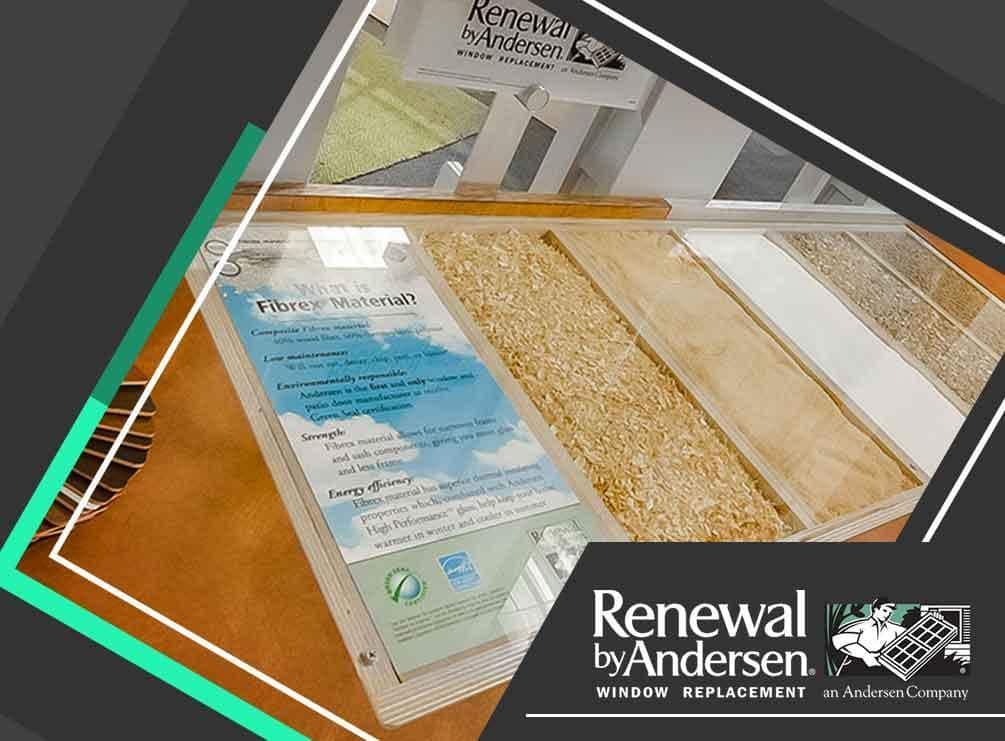 Renewal by Andersen® of Western New York is the exclusive provider of Fibrex® material. A patented composite made from reclaimed wood fibers and proprietary polymers, our windows owe their incredible strength, long-lasting beauty and exceptional performance to it.
Here's why our revolutionary Fibrex material is your best bet for your window installation project:
Born to Beat Vinyl
After Andersen® Corporation scientists developed the first hollow, vinyl window in America in 1959, they quickly worked on developing engineered composite materials. Vinyl dethroned wood and aluminum as the premier window framing option because it provides a healthy trade-off among affordability, energy efficiency and moisture resistance. However, it has one fatal flaw: it's structurally weak.
For decades, our experts used a great deal of time and energy to combine the best benefits of wood and vinyl minus their inherent drawbacks. After securing more than 30 patents along the way, we perfected the composite window technology in 1992.
We've recently proven that our Fibrex material is twice as strong as vinyl with our durability study. After testing 10 of our first windows after 20 years of use, our products were as easy to operate as the day they were installed.
With the natural rigidity and stability of its wood fibers, it expands very little with extreme temperature changes. As a result, our casement, sliding and double hung windows don't bow or crack over time like their vinyl counterparts do.
Proven to Last Agelessly
Science has shown that our Fibrex material had no signs of peeling, chipping and cracking after two decades of intense Minnesota summers and punishing winters. You can't say the same about vinyl. Although immune to moisture, it warps after several years. Remaining structurally sound and amazingly beautiful after what it seems like forever, you can rest assured that our Fibrex-framed units will grow old with you.
Made to Deliver Absolute Peace of Mind
The longevity of our Fibrex material is unquestionable, but don't just take our word for it. The Fibrex components of our picture, specialty, bow and bay windows come with 20-year warranty coverage. Transferable to the next owner of your property if you decide to sell in the future, our exclusive window material can boost your home's value.
Appreciate the brilliance behind our Fibrex material's design first-hand. Call Renewal by Andersen of Western New York at (716) 222-8657 or (585) 294-4640 now to schedule your free, in-home consultation in Buffalo, NY, Rochester, NY, or the surrounding areas.